5 products in this product line
Membrane Switch
Elcom Designs specializes in
membrane switches
that are customized for various applications.
Essentially, a membrane switch consists of two polyester films, which are printed with a conductive layout. In between is a die-cut spacer that maintains an open circuit, where a finger press establishes contact switching it on. Then again, releasing this contact brings the system back to its original state.
We will be more than happy to share our extensive knowledge and experience in membrane switch technologies with our clients. Inquire with us now so we can assist you in your undertaking.
Photo Gallery
Tactile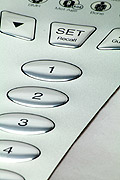 Non-Tactile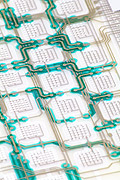 Graphic Overlay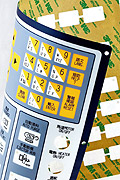 Backlighted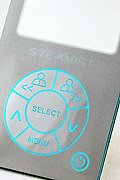 Specifications
| | | |
| --- | --- | --- |
| Environmental | Operating Temperature | -40°C to +80°C (-40°to 176°F) |
| | Storage Temperature | -40°C to +85°C (-40°to 185°F) |
| | Humidity | 40°C, 90% to 95% for 240 hours |
| | Vibration | 20G's max. |
| Mechanical | Actuation Force | Non-tactile 60g to 300g (2oz to 10oz) |
| | | Tactile 150g to 400g (6oz to 14oz) |
| | Switch Stroke | Non-tactile 0.1 to 0.5mm |
| | Life Expectancy | Tactile 0.6 to 1.5mm |
| | | Non-tactile >5 million actuations |
| | | Tactile >1 million actuations |
| Electrical | Operating Voltage | 35 volts maximum |
| | Operating Current | 10 micro amps to 100 milliamps, resistive |
| | Operating Power | 1 watt maximum |
| | Circuit Resistance | 10 ohms to 500 ohms, dependent on size and layout |
| | Insulation Resistance | 100M ohms at 100V DC |
| | Dielectric Withstand | >250 VRMs (50-60Hz 1 minute) |
| | Contact Bounce | ≤ 5 milliseconds |